At the 2016 Saskatchewan Independent Film Awards presented by the Saskatchewan Filmpool Cooperative, the German Expressionist homage film I co-wrote, designed, directed, and co-produced with Berny Hi, who shot it on 16mm black and white celluloid, won Best Film and Audience Choice, and the film's incredibly talented composer, Jason Cullimore, was nominated for Best Score.
Der Glöckner not only got two trophies, but its very own collectible trading cards, along with cards of all the other winners and nominees, as part of the event!
To view the trailer and learn more about the film please click here -> Der Glöckner
Even if I look exhausted and shellshocked in this picture, believe me: I love living and working in Saskatchewan!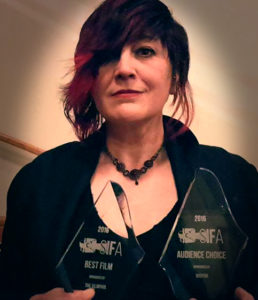 Adventure!
celluloid rules!